Jason Stein (bass clarinet) + Paul Giallorenzo (synthesizer)
with Shane Parish + Frank Meadows
Wednesday October 18th
8pm show/doors open at 7:30pm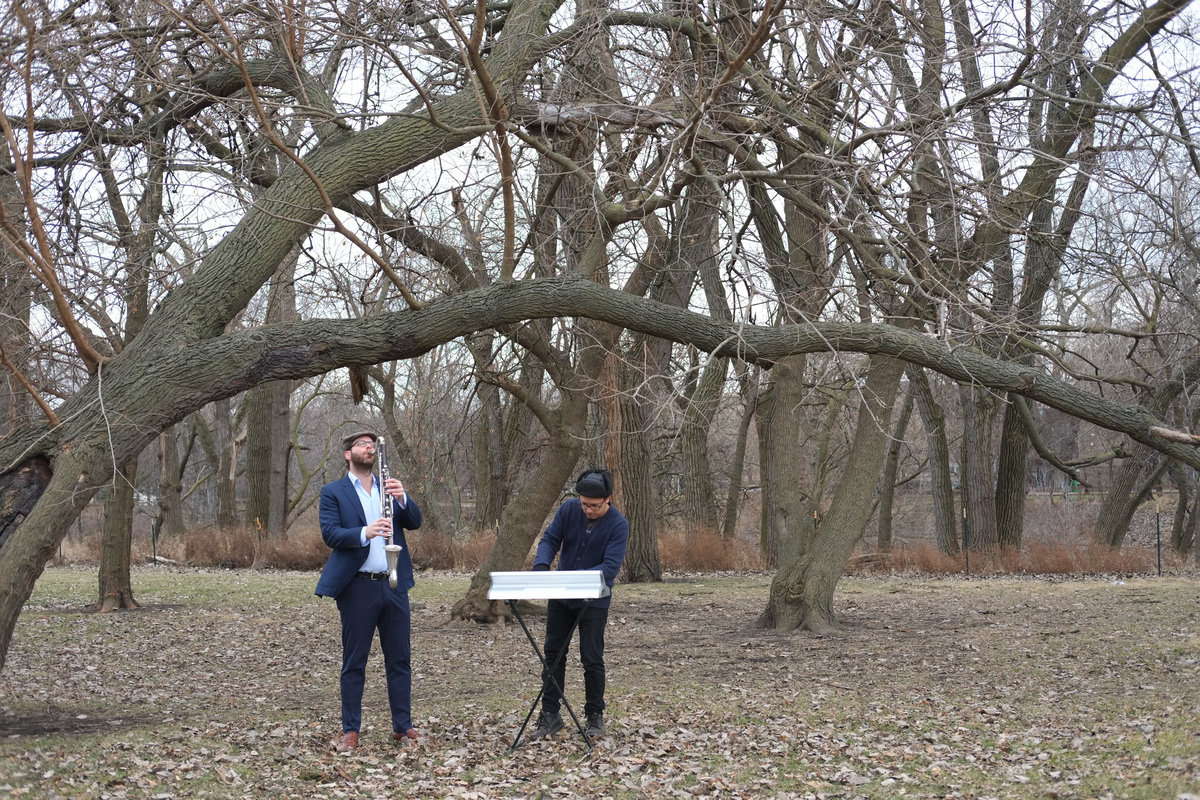 Jason Stein + Paul Giallorenzo
Jason was born in 1976 and is originally from Long Island, New York. Stein is one of the few musicians working today to focus entirely on the bass clarinet as a jazz and improvisational instrument. He studied at Bennington College with Charles Gayle and Milford Graves, and at the University of Michigan with Donald Walden and Ed Sarath. In 2005, Stein relocated to Chicago and has since recorded for such labels as Leo, Delmark, Not Two, Atavistic, 482 Music, and Clean Feed. Stein has performed throughout the US and Europe as both a bandleader and sideman and has amassed a discography of over 30 albums.
Paul, originally from Long Island NY, is a Chicago-based improviser, composer, and producer using piano, synthesizer, keyboards, and electronics in a wide variety of groups and contexts, ranging from jazz and improvised music to electro-acoustic / noise to sound and video performance. He has performed throughout the US, Canada, Europe, Brazil. He currently is releasing work on the Chicago-based Delmark Records and Austin-based Astral Spirits labels, and has previously released work with Leo Records (UK), Not Two Records (Poland), and 482 Music (NY). He is also a presenter, organizer, co-founder of the music venue/art gallery Elastic, producing hundreds of creative music concerts and events in Chicago since 2001.
Shane Parish + Frank Meadows
Shane and Frank have collaborated over the past five years in various musical settings, notably with Library of Babel, their trio with cellist Emmalee Hunnicutt. For this occasion, the duo will perform arrangements of old timey folk, blues, and gospel tunes, a few of which appear on Parish's 2016 Tzadik Records album "Undertaker Please Drive Slow," plus a few new arrangements of tunes that were sung by the balladeer John Jacob Niles. Their versions draw from a variety of strains of the avant garde, from John Cage and Morton Feldmen, to free jazz, to the pulse minimalism of Terry Riley, and back to the roots of the Appalachian landscape from which they sprung. Meadows is a recent transplant to Brooklyn, and has immersed himself quickly into the NYC new music scene.