AM I WHO I AM?
Constance Humphries
An exhibition of Screen Dance
January 20th - March 3rd
Reception + CD Release for the artist from 6pm - 7pm Saturday January 20th. At 7pm Constance will discuss her work and answers questions. A special performance by cellist Daniel Levin will start at 7:30 in the Listening Space.
Am I Who I Am? spans six years and two countries, and brings together the screen dance work of butoh dancer, Constance Humphries. This exhibition is a collection of video works and an album of compositions created between 2012 and 2017. It includes works created in isolation and in collaboration, in the US and in the UK, and reflects on themes of self-investigation, asking deep questions about identity, sanity and what it means to be human.
REVOLVE will have copies of our first in a series of limited, handmade artist books made in conjunction with artist Karen Hardy on hand to sell! More Info can be found HERE.
Constance Humphries has been making, presenting and teaching dance since 1987. As a choreographer and performer, her work is grounded in butoh dance. Butoh is often referred to as the dance of darkness. It is by excavating what is underneath consciousness that she seeks meaning and inspiration for her creative practice, which is based on performative investigations of relationship, identity, memory and intimacy and addresses issues of the body, the environment and social justice.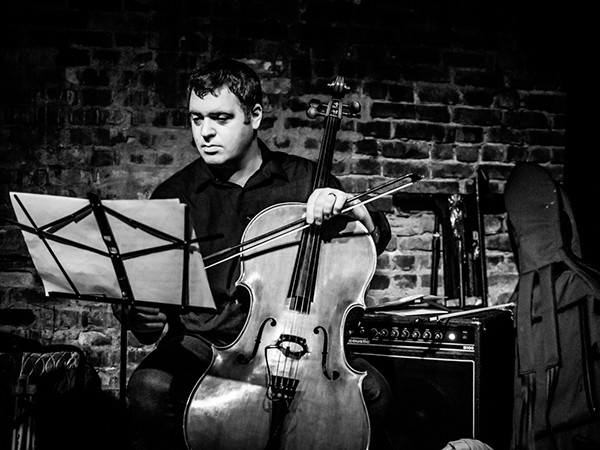 Daniel Levin is "one of the outstanding cellists working in the vanguard arena" (All About Jazz), "ridiculously fluent, virtually overflowing with ideas" (New York City Jazz Record) and "very much the man to watch." (Penguin Guide to Jazz). No matter what setting he plays in, cellist Daniel Levin occupies a musical space bordered by many kinds of music, but fully defined by none of them. Daniel is the recipient of a 2010 Jerome Foundation award.
He has released more than 20 albums as a leader or co-leader in solo, duo, trio and quartet formats for various record labels including HatOLOGY, Clean Feed, TROST, NotTwo, and Smeraldina-Rima.