MAP/REVOLVE in conjunction with
Alice Vogler & Vela Oma
present:
For nine hours, from 2pm to 11pm on October 27th, 2018 visiting and local experimental performance and sound artists will use 7 acres on top of a ridge in Marshall, NC to create timed performances, durational work, multi site pieces, installation and sound work.
The audience is invited to participate in a communal meal with artists and the community that will be site specific and take place in multiple locations around the land. The dinner will start at 5pm and go until it ends. There is a nominal extra fee for the dinner.

About the Dinner:
There is a vegan / gluten free option for the dinner as well as a meat and cheese filled dinner.
The location of the appetizer portion of the meal with be dependent on the luck of the draw. Audience members will choose a colored poker chip that will direct them to their appetizer location. After the appetizer, everyone will convene on the porch for the rest of the locally sourced and fall inspired dinner and dessert.
Vegan / Gluten Free Meal: Appetizer: Roasted Candy Roaster with cranberries & pumpkin seeds. Meal: White Bean and Greens Soup, Spinach Salad with Smoked Pecan Vinaigrette, Rolls and Seeded Grain Bread from Eat More Bakery. Dessert: Butternut Squash & Pecan Bake.
Meat and Cheese filled Meal: Appetizer possibilities: New Potatoes with Roasted Garlic Vinaigrette, Stuffed Mushrooms with Parmesan, or Purple Sweet Potato Fritters with Pear Sauce. Meal: White Bean and Greens Soup with Sausage, Spinach Salad with Smoked Pecan Vinaigrette and Goat Cheese, Sourdough Bread from Free Bagels. Dessert: Butternut Squash Cake.
*Special thanks to Ivy Creek Family Farm, Free Bagels and Eat More Bakery for doing what you do so well.
Purchase your tickets BELOW!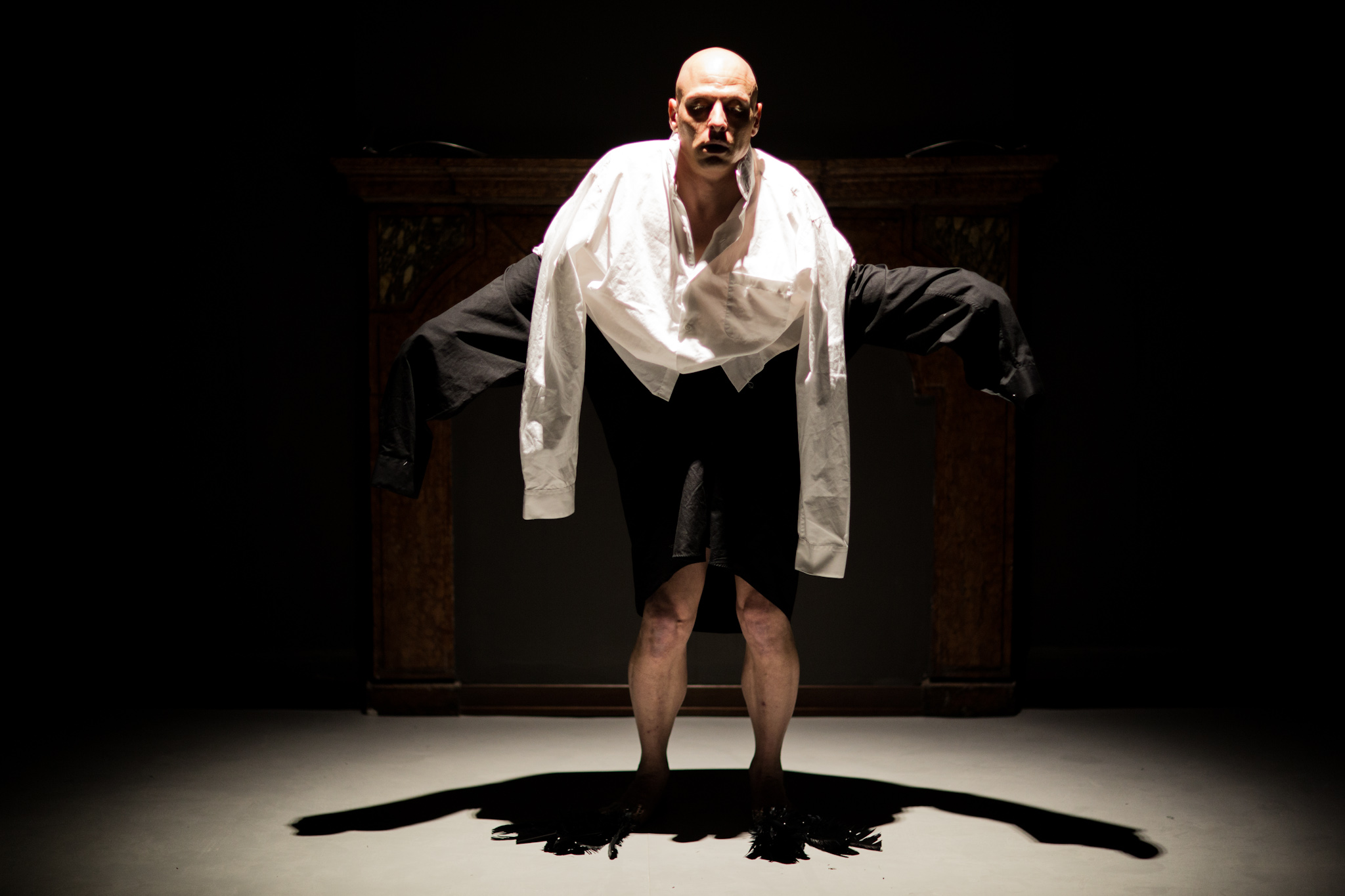 Joseph (b.1968) has presented his work throughout Asia, Europe, South America, and the US. He studied audiovisuals at the Gerrit Rietveld Academie in Amsterdam, Netherlands, and is a graduate of The School of the Art Institute of Chicago with an MFA in Performance. Ravens is a two time recipient of the Illinois Arts Council Fellowship for New Performance Forms. Other grants, awards, and opportunities have allowed him to build an international reputation. Ravens was included in Live Biennale Vancouver (Canada 2015); 20th Bienal Internacional de Curitiba (Brazil 2013); Venice International Performance Art Week (Italy 2012); and Intrude: Art and Life 366 at Zendai MoMA, Shanghai (China 2008). Ravens is founder and director of Defibrillator Gallery, and co-founder and director of Rapid Pulse International Performance Art Festival. He is recognized for his work as an artist, an educator, and a curator.
https://josephravens.com/
Jeff has been performing art for the last 20 years, both nationally and internationally. He enjoys the bicycle, the hammer, the saw, the wood, his wife and son, his family, his friends, his work. (…except sometimes he doesn't enjoy these things as much; it depends.) He is the son and grandson of far more practical people, which he tries to express in his art. His mother thinks it is time to stop getting naked in front of people and privately he thinks she is probably right; and something about death.
http://jeffhuckleberry.com/
Growing up, my mother told me I was too smart to be an artist, that I could help the world more by becoming a brainiac chemist, and sometimes I think she's right. I've worked at three movie theaters, four libraries and one small town garden center.
They always tell you not to judge a book by its cover, but doesn't the cover function as a form of communication? I'm just so curious about the world and its surfaces — there are so many spectacular glossy surfaces, on objects and on people. I love to look at food and celebrity personalities and plastic packaging. It all seems so frivolous, but with a little inspection, it turns out everything is available on the surface.
Website: www.coorain.com
Quinn is a multimedia performance artist, activist and curator based in Brooklyn, NY. Her work addresses human connection, social injustice and ritual. In 2014, Dukes founded Performance Is Alive a website and curatorial project devoted exclusively to performance. She is a tireless advocate for performance art and higher education via appointments at Grace Exhibition Space (Brooklyn, NY), the School of Visual Arts (New York, NY) and Satellite Art Show (Miami, NYC & SXSW).

http://www.quinndukes.com/
Sandy has been making performances for more than thirty years. Her work has evolved through various educational influences (study visual art, dance, voice, literature and history at Smith College; studying performance, video, drawing, stained glass at the School of the Museum of Fine Arts, Boston) and collaborative influences. She draws inspiration from the settings and the history of the places she performs (from abandoned bear cages to basements to historic museum halls; from Beijing to Boston and Poland to Havana), as well as from her own inner landscape. Our collective human responsibility for the imbalances we have imposed upon our world are the motivation behind her current work.
Cassette loops and Modular synth // Sounds of changing seasons
Boston MA
https://moondrawn.bandcamp.com/music
Alice Vogler and Vela Oma have been married and curating and making timed based work for the last for 16 years. Their curatorial work focuses on live art actions and participatory exhibitions. They have exhibited hundreds of contemporary artists that are utilizing live action and hands-on approaches in both traditional settings and non-art designated contexts.
Vela
http://www.templeofmessages.com/velaoma/data.html